things at home are still crazy, anticipating the arrival of Lincoln Mercury (that will not be his real name).
but i have been able to block out some time to work on projects here and there. one that i've been really wanting to get done is to take care of the low spot in back of our house. when we moved in, it was basically a stagnant pond, blocked off by felled logs and full of rotting organic matter.
this spring, i dredged out drainage channels with a pickaxe, and moved the logs (all about 6′ long, and 10-12″ round) so water would flow. it drained a LOT of the problem water away.
recently i chunked & removed all the deadfall in the immediate area. then, i wanted to clear down to soil before i started filling i with more soil. that meant removing a layer of organics – leaves, and roots. i was surprised at the depth and tenacity of it.
here it is after i've moved about 4 yards of fresh loam into where i cleared/excavated: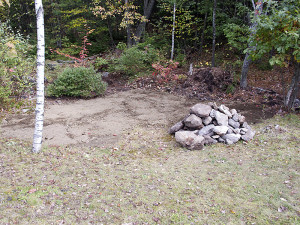 the next phase of this is to move back into the woods a bit more, progress is slow by more large tree roots: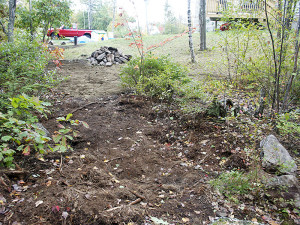 the layer of organic matter i'm talking about is actually pretty intense. the 'mat' of roots i actually have to cut, roll back, and cut along the edge and continue rolling.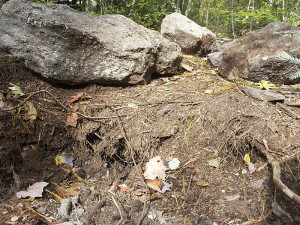 along the way i've encountered many rocks – this is the Granite State, after all. they will become part of our future landscaping around the house. the pile in the first picture is just from this project alone. some of them i can't lift, i had to roll them out.