as most new parents can relate, our house has been a bit of a mess. and by a bit, i mean completely. we'd spent the three months prior to bringing Justin home, driving up to Dartmouth and back. and spent the first three months of having him home, trying to get the necessities done and maintain our sanity.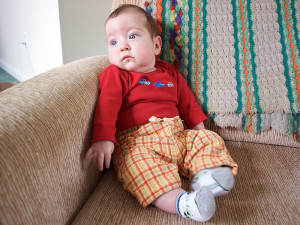 for our sakes, i'm happy to report that Justin is a very good baby. he's laid back, he loves routine, and he sleeps through the night.
developmentally, his complications of prematurity have pretty much gone away. he'll go back to see a pediatric ophthalmologist, but the Retinopathy has faded.
he's above the 50th percentile for weight & length for his adjusted age (calculated from when his due date should have been). he's obviously still well below average for his actual age (as he was 3 months early). for motor-skills, he's grasping and sweeping, but not quite yet rolling over. he's trying to, though, it's only a matter of time.
so, back to the 'busy & visit' – we've been wanting to get our house back into order, and we had the pefect excuse – we hosted my brother and his family (from Western New York) for Thanksgiving this year. it was the first time we've ever hosted Thanksgiving (and the first time we've had guests with children stay with us) so we put a lot of time into cleaning & organizing in anticipation of being outnumbered for a few days.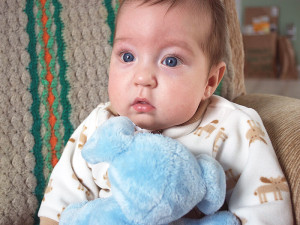 everything went swimmingly; we had a lot of fun, we ate turkey dinner when the turkey was done, we played board & card games, we had a relaxing time.
Justin went with all of us to the New England Aquarium. his cousins had a great time, and he watched the fish swim by in the giant salt water tank (i think at this point it's still about the contrast) while i carried him around in a Baby Bjorn that we borrowed from our (super-nice!) neighbors. he loved it!
so, after a busy busy November, we're left with great memories and a clean house. now, on to the next set of house projects.